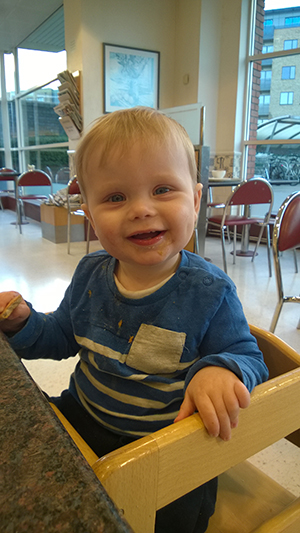 Dear friends,
Bram is still on the paediatric intensive care unit. He is slowly improving. He is still on a ventilator. Bram underwent surgery again last Wednesday. His shunt (internal drain) got blocked and had to be removed. He currently has an external drain to lower the pressure on his brain. This pressure is causing some issues at the moment. The medical team are hopeful to wake Bram up next week and finally be able to take him off the ventilator. We have to wait and see.
Yesterday we also got back the results of the biopsy of his tumour. His tumour turns out to be cancerous. It is called Anaplastic Ependymona. It is stage III cancer, agressive and can spread quickly. During surgery the whole tumour was removed and this gives Bram the best chance of survival. Survival rate for this type is around 50%.
As you can imagine we are deeply shocked and have no words to express our fears. All we can do is hope. The medical team is working for a complete cure.
The medical team has now proposed to us and the NHS for Bram to have Proton Beam Therapy. this is currently unavailable in the UK. because of the cost involved in this (around £100000) the NHS medical board needs to approve this first. If approved it would mean that we take Bram to the US. Either Oklahoma or Jacksonville, Florida. We would be looking at up to 8 weeks of Proton Beam Therapy and a total stay of about 3 months. We expect an answer of the NHS in the next week or 2.
The other option would otherwise be up to 2 years of chemotherapy for Bram.
We are absolutely heartbroken at the moment, but are hopeful that a cure is still possible. Please keep burning your candles, keep on praying and keep on sending your nice messages of support. It gives us hope and a little bit of comfort.
Bram is a fighter and we believe he will beat this horrible disease!
Love,
Jeroen, Laura, Max and Bram